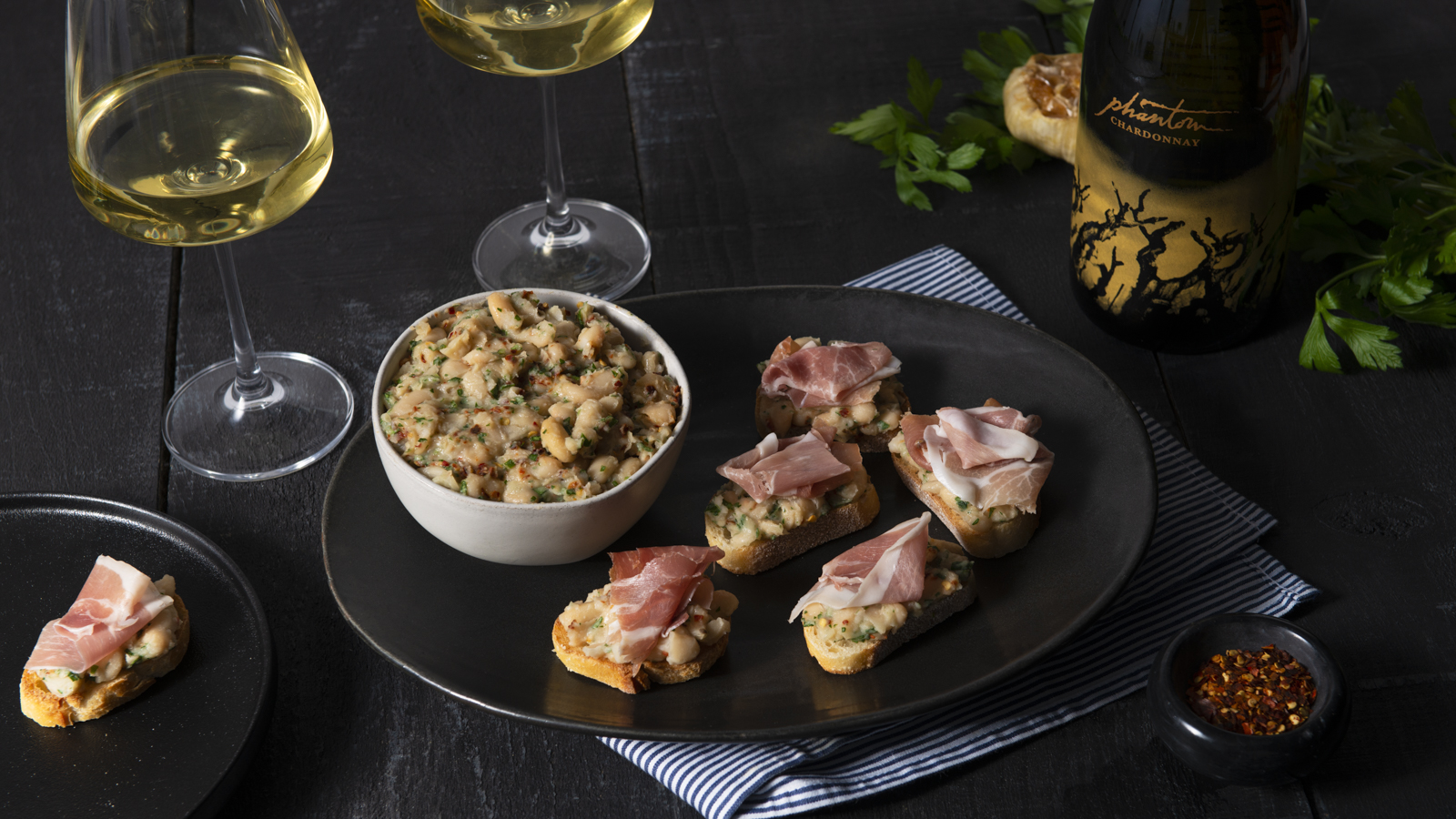 With roasted garlic and lemon, this rich white bean bruschetta with prosciutto is a simple but tasty appetizer that will help get any party started.
Suggested Wine Pairing: Phantom Chardonnay
Prep Time: 10 minutes
Cook Time: 40 minutes
Total Time: 50 minutes
Serves: 8
Ingredients:
1 head garlic
1/3 cup olive oil, divided
1 can (19 oz) cannellini beans, drained and rinsed
1/4 cup finely chopped fresh parsley
3 tbsp lemon juice
1/2 tsp salt
1/4 tsp cracked pepper
Pinch red pepper flakes
16 baguette rounds
4 prosciutto slices, cut into 4 pieces

Cooking Instructions:
1. Preheat oven to 400°F. Slice top 1/4 inch from top of head of garlic to expose cloves slightly. Place head, cut side up, on sheet of foil; pour 1 tbsp oil over top. Seal foil tightly around garlic.
2. Bake for 35 to 40 minutes or until garlic is very soft. Let cool completely. Squeeze out garlic from skins.
3. Mash half of the white beans with the roasted garlic cloves. Toss with remaining beans and oil, parsley, lemon juice, salt, pepper and red pepper flakes; set aside.
4. Preheat broiler to high; position rack in center of oven. Arrange baguette slices in single layer on baking sheet; broil for 1 to 2 minutes per side or until golden and toasted.
5. To serve, top each baguette toast with white bean bruschetta mixture and piece of prosciutto.