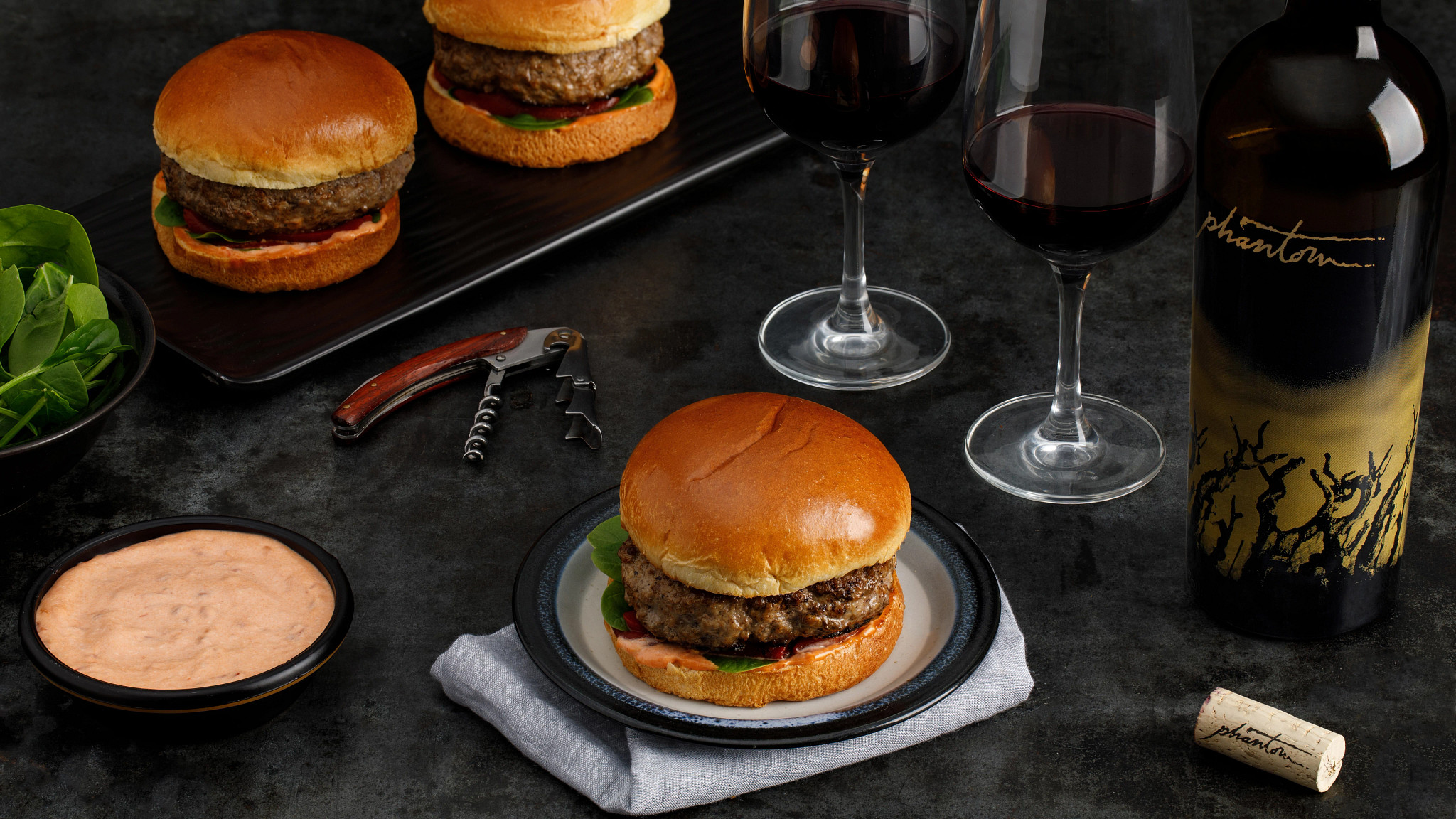 Grill your burgers! Heat grill or grill pan to medium-high heat and brush grates with oil. Grill patties for 4-5 minutes, then flip and cook additional 4-6 minutes, until cooked to desired doneness.
Suggested Wine Pairing: Phantom Red Blend
Prep time: 15 minutes
Cook time: 11 minutes
Ready in: 26 minutes
Serves: 4
Ingredients:
1/2 cup mayonnaise
2 T. harissa paste
1 clove garlic, finely grated
Kosher salt and freshly ground black pepper, to taste
1 1/2 lbs. ground lamb
1 tsp. ground coriander
1/2 tsp. ground cumin
1/2 tsp. paprika
1 T. olive oil
4 brioche buns, toasted
2 cups baby spinach
1/2 cup jarred roasted red peppers, sliced
Cooking Instructions:
1. In a small bowl, mix mayonnaise, harissa and garlic together until combined. Season with salt and pepper. Keep refrigerated until ready to use.
2. In a large bowl, mix lamb, coriander, cumin and paprika together until just combined. Form lamb mixture into 4 equal patties and season all sides with salt and pepper.
3. In a large skillet over medium-high heat, heat oil. Cook patties for 5 minutes, flip and cook an additional 4-6 minutes, until cooked to desired doneness.
4. Spread mayonnaise mixture on both sides of buns. Top each bottom bun with a layer of spinach, roasted red peppers, burger patty and top bun. Serve and enjoy.