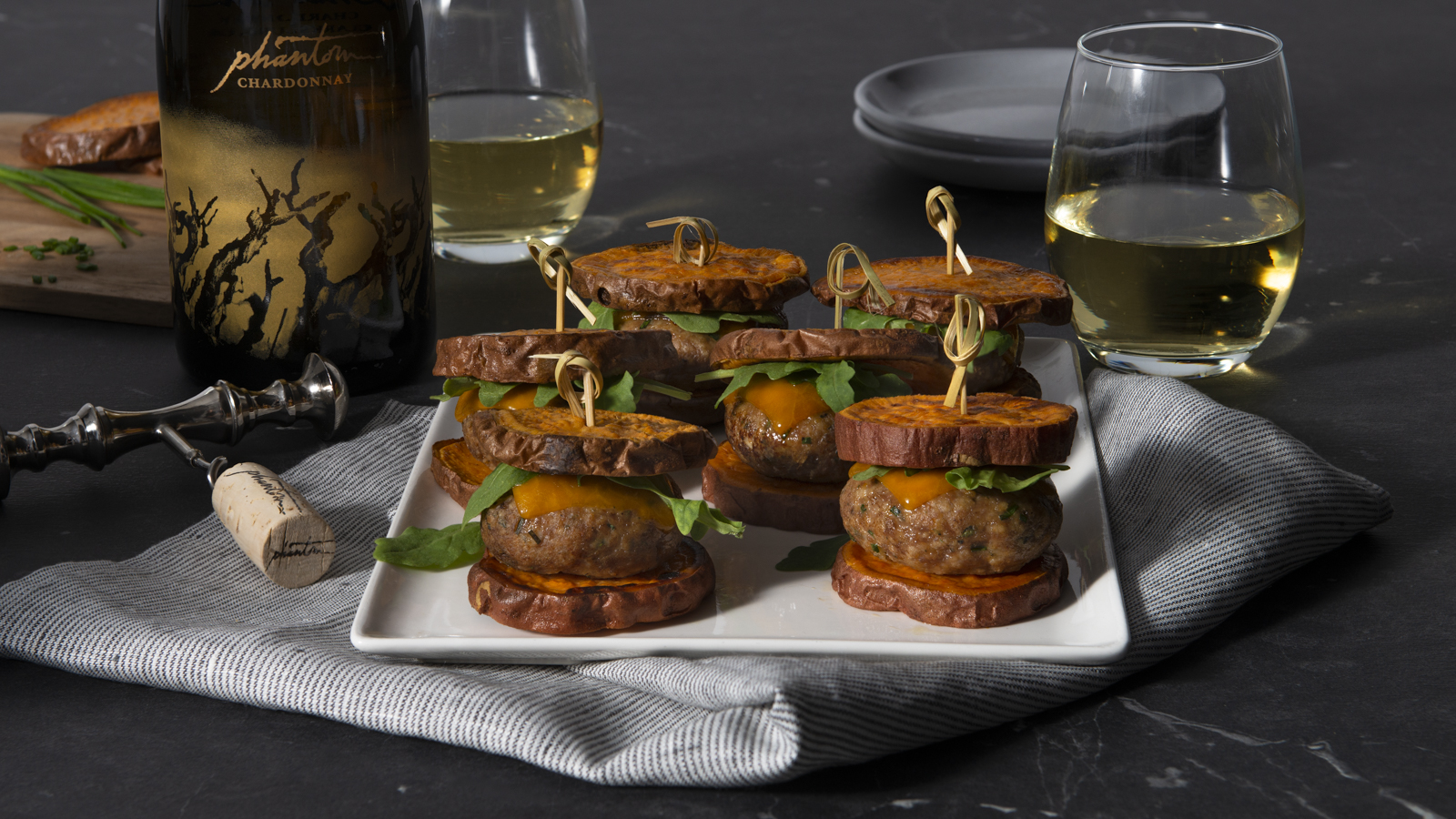 These satisfying turkey cheeseburger sliders will win rave reviews with any crowd.
Prep Time: 15 minutes
Cook Time: 35 minutes
Total Time: 50 minutes
Serves: 10
Ingredients:
3 to 4 sweet potatoes, each about 3 inches in diameter
3 tbsp olive oil, divided
1 lb lean ground turkey
1/3 cup bread crumbs
1 egg, beaten
2 tbsp finely chopped fresh chives
1 tbsp finely chopped fresh thyme
1 tbsp Dijon mustard
1 tsp honey
1 clove garlic, minced
1/2 tsp each salt and pepper
10 aged Cheddar cheese slices
1 1/2 cups baby arugula

Cooking Instructions:
1. Preheat oven to 425°F. Trim sweet potato ends as needed; cut 20 sweet potatoes slices, about the same diameter and 1/4-inch thickness (reserve remaining sweet potatoes for another use).
2. Toss sweet potato slices with 2 tbsp olive oil; place on 2 large parchment paper–lined baking sheets. Bake for 25 to 30 minutes or just until tender. Transfer slices directly to rack; let cool.
3. Meanwhile, mix together ground turkey, bread crumbs, egg, chives, thyme, mustard, honey, garlic, salt and pepper. Divide into 10 portions. Shape into 1/2-inch thick patties, about 4 inches in diameter.
4. Arrange on parchment paper–lined baking sheet. Bake in 425°F oven for 10 to 12 minutes or until golden brown and cooked through. Top each patty with slice of Cheddar white still hot.
5. Sandwich each turkey patty with arugula between 2 sweet potatoes slices as buns.