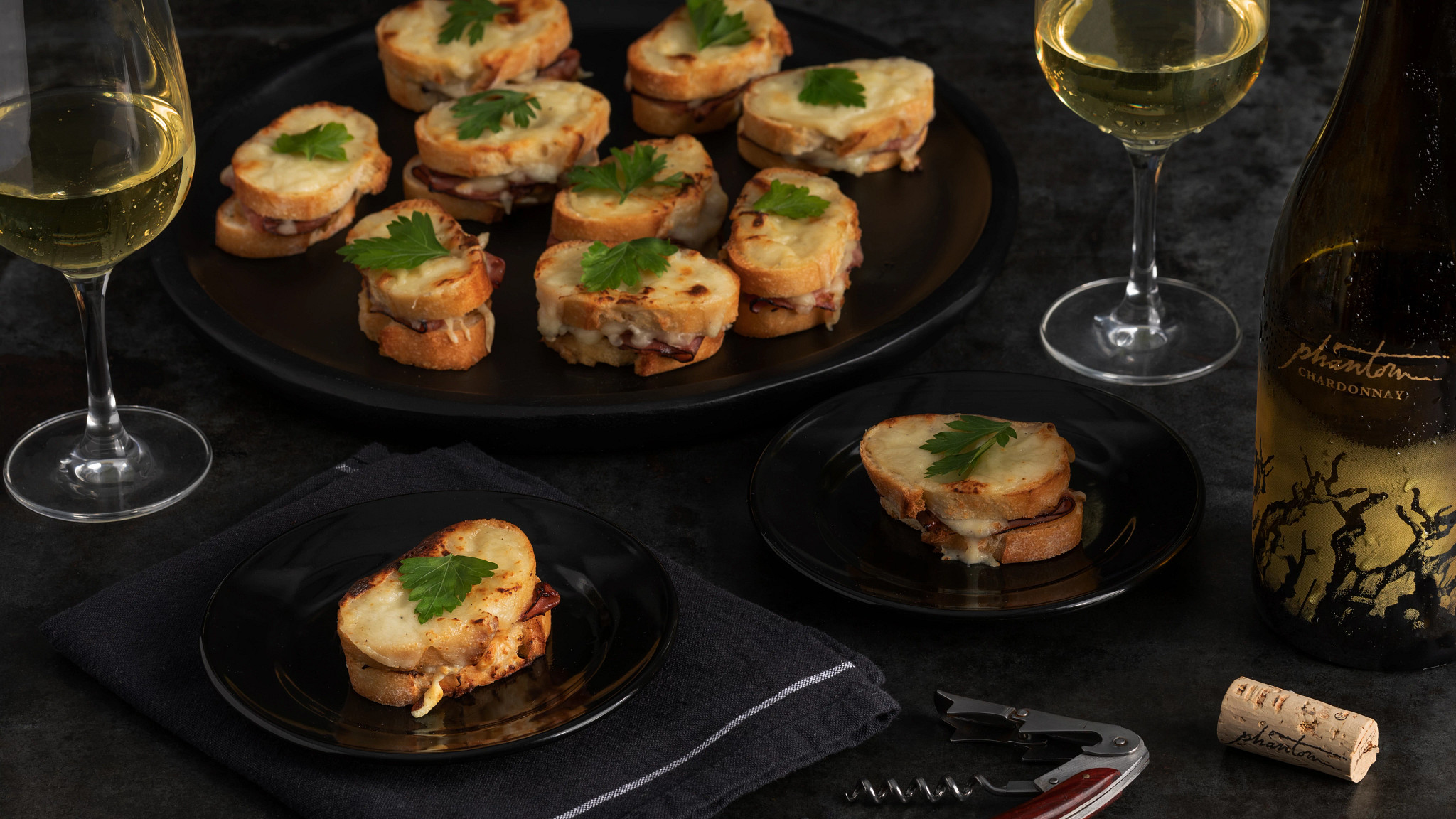 This recipe pairs particularly well with Phantom Chardonnay!
Prep time: 15 minutes
Cook time: 24 minutes
Ready in: 39 minutes
Yields: 24
Ingredients:
3 T. unsalted butter
1/4 cup all-purpose flour
1 1/4 cups whole milk
4 cups shredded Gruyere cheese, divided
Pinch freshly grated nutmeg
Kosher salt and freshly ground black pepper, to taste
1 baguette, cut into 1/4-inch slices
1/4 cup Dijon mustard
12 slices Black Forest ham, quartered
Fresh parsley leaves, for garnish
Cooking Instructions:
1. Preheat the oven to 450°F and line a rimmed baking sheet with parchment paper. In a small saucepan over medium-high heat, melt butter. Stir in flour, and cook until no lumps remain, about 1 minute. Slowly add in milk, while whisking vigorously until combined. Simmer, stirring occasionally until thick, about 8-10 minutes. Whisk in 2 cups Gruyere until smooth. Season with nutmeg, salt and pepper. Remove from heat.
2. Top half the bread slices with 2 ham quarters and roughly 1 tablespoon of Gruyere cheese. Spread mustard on remaining bread slices. Top each sandwich, mustard side down, with bread slices. Spread a few tablespoons of Gruyere sauce over each sandwich. Top with a scant tablespoon of the remaining Gruyere cheese. Transfer to the prepared baking sheet.
3. Bake for 10-14 minutes until bread is toasted and cheese is light golden brown. Garnish each sandwich with a parsley leaf. Serve warm and enjoy.