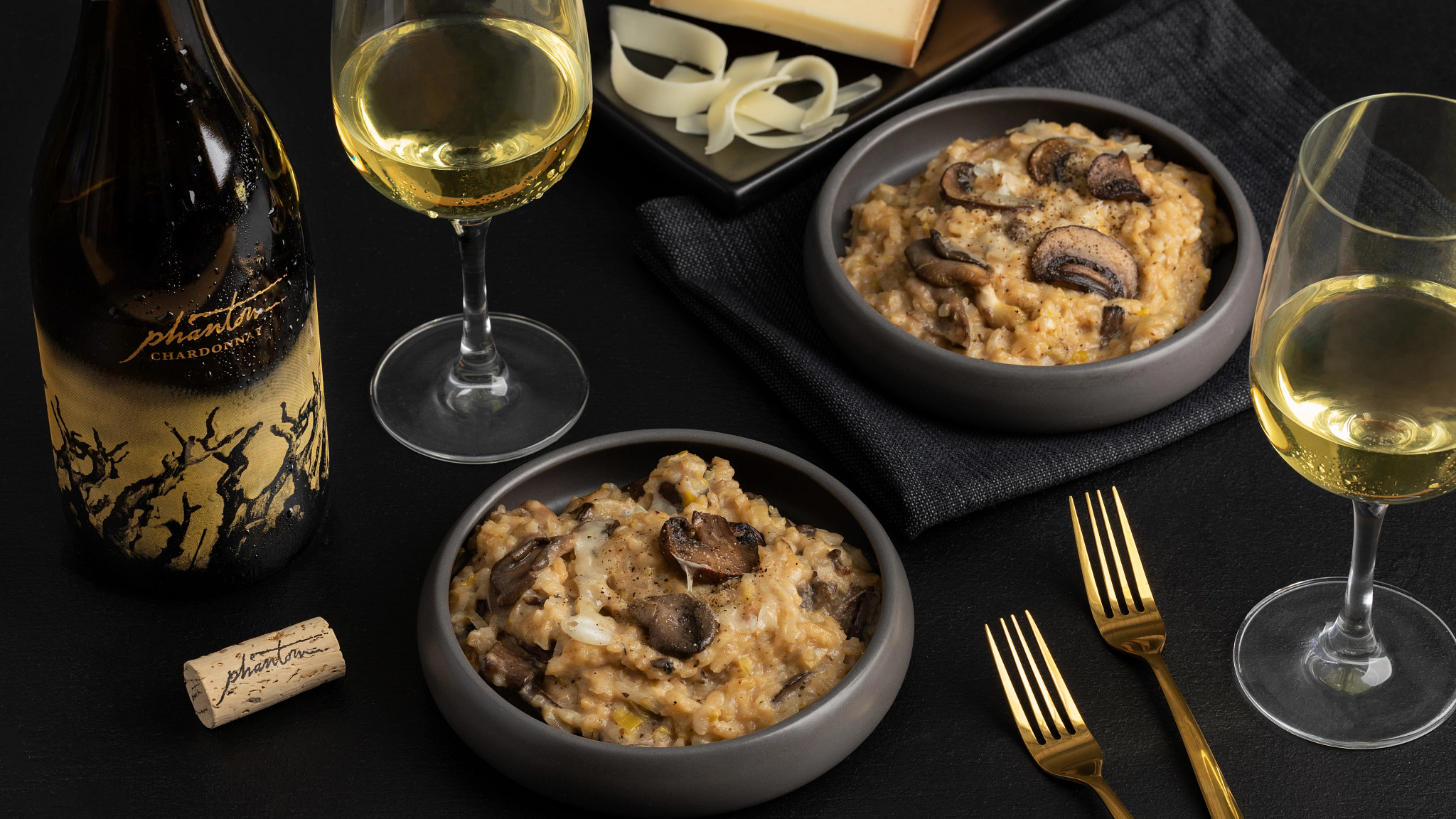 This recipe pairs particularly well with Phantom Chardonnay!
Prep time: 15 minutes
Cook time: 34 minutes
Ready in: 49 minutes
Serves: 6
Ingredients:
4-6 cups low-sodium vegetable broth
2 T. olive oil, divided
8 oz. oyster mushrooms, torn into large pieces
8 oz. cremini mushrooms, sliced
1 1/2 cups Arborio rice
1 small leek, white and light green part only, finely sliced
2 cloves garlic, minced
1/2 cup white wine, such as Phantom Chardonnay
1 T herbes de Provence, divided
1/2 cup grated Gruyere cheese, plus shaved Gruyere cheese for garnish, divided
2 T. unsalted butter
Kosher salt and freshly ground black pepper, to taste
Cooking Instructions:
1. In a small saucepan over medium-high heat, bring broth to a simmer. Keep warm on low heat until ready to use.
2. In a large wide skillet or medium saucepan over high heat, heat 1 tablespoon of oil. Add mushrooms and cook, stirring occasionally, until golden brown, about 5-8 minutes. Transfer to a plate and set aside.
3. Reduce heat to medium-high. Add remaining oil and rice and cook, stirring constantly until translucent, about 3 minutes. Stir in leeks and cook, stirring often until softened, about 2-3 minutes. Add garlic and cook until fragrant, about 30 seconds.
4. Stir in wine and 2 teaspoons herbes de Provence, and cook until fully absorbed. Stir in 2 cups of broth. Simmer on medium-low heat, stirring constantly, until liquid is completely absorbed, about 3-5 minutes. Ladle in 2 cups of broth at a time and cook, stirring often until absorbed. Repeat with remaining broth. Add more broth, as needed, until rice is fully cooked, about 12-15 minutes. Stir in cooked mushrooms, grated Gruyere, butter and more broth, if needed, to adjust the consistency to resemble slow-moving lava. Season with salt and pepper.
5. Top with shaved Gruyere, remaining herbes de Provence and pepper. Serve immediately.