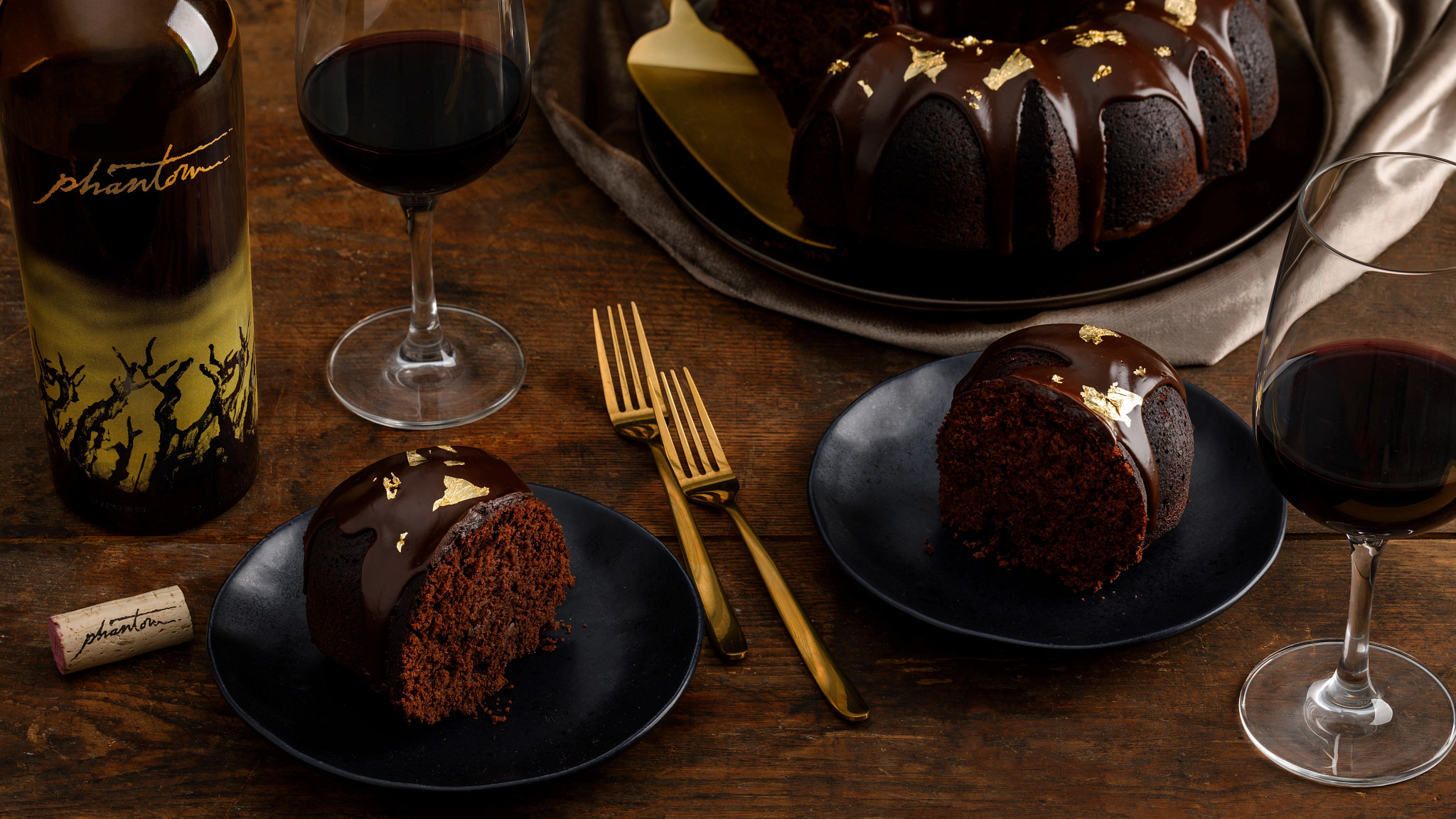 This recipe pairs particularly well with Phantom Red!
Prep time: 20 minutes
Cook time: 48 minutes
Ready in: 1 hour 8 minutes (plus resting and cooling time)
Serves: 8
Ingredients:
For cake:
2 sticks (1 cup) unsalted butter, room temperature, plus more for greasing
2 cups all-purpose flour
1/2 cup unsweetened cocoa powder
1 1/2 tsp. baking powder
1/4 tsp. kosher salt
1 1/2 cups sugar
3 large eggs, room temperature
1 tsp. pure vanilla extract
1 cup dry red wine, such as Phantom Red
1 cup dark chocolate chips

For ganache and assembly:
8 oz. dark chocolate chips
1/2 cup heavy cream
1 tsp. espresso powder
Gold leaf, for garnish (optional)
Cooking Instructions:
1. For cake: preheat the oven to 350°F. Grease a Bundt cake pan with butter. In a medium bowl, whisk flour, cocoa powder, baking powder and salt together until combined.
2. In a separate large bowl, using a hand mixer, beat sugar and butter together until light and fluffy, about 3-5 minutes. Add eggs one at a time, beating to combine after each addition. Add vanilla and beat until combined. Add a third of the dry ingredients and mix until just combined. Add half of the wine and mix until combined. Repeat with remaining dry ingredients and wine. Fold in chocolate chips until just combined.
3. Pour batter into the prepared pan. Bake until a toothpick inserted into the center comes out mostly clean with some moist crumbs, about 40-45 minutes. Allow to cool in the pan for 10 minutes. Invert pan onto cooling rack to release cake and let cool completely at room temperature.
4. For ganache and assembly: Meanwhile, place chocolate in a large heatproof glass bowl. In a small saucepan, combine cream and espresso powder. Bring to a simmer over medium heat, about 3 minutes. Pour cream over chocolate. Cover with plastic wrap and let set for 5 minutes. Using a rubber spatula, mix ganache together until smooth. Drizzle ganache over cake. Top cake decoratively with small pieces of gold leaf. Slice and serve.