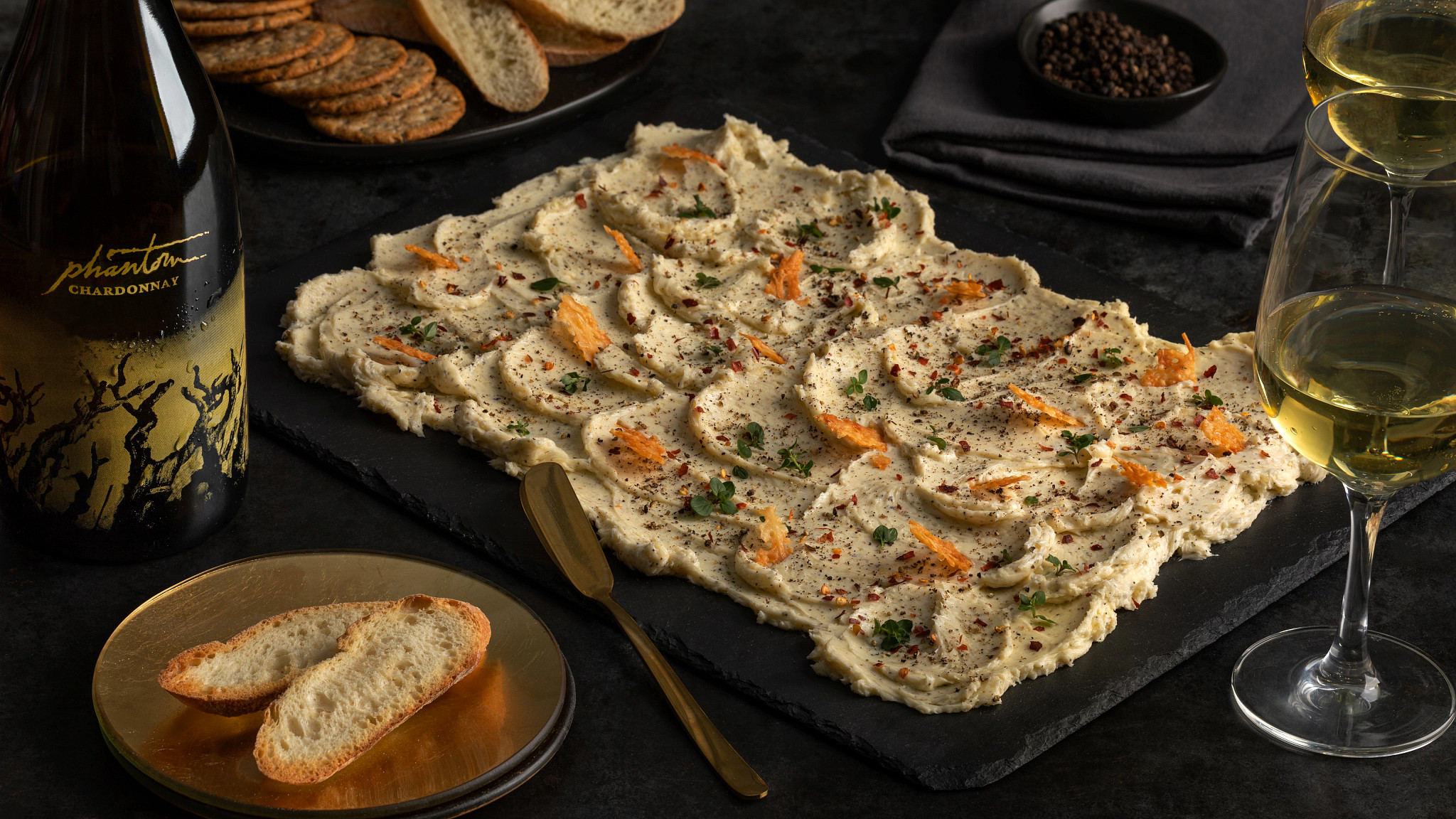 This recipe pairs particularly well with Phantom Chardonnay!
Prep time: 15 minutes
Cook time: 8 minutes
Ready in: 23 minutes
Serves: 6
Ingredients:
For butter:
2 cups (4 sticks) unsalted butter
1/2 cup grated Parmesan cheese
2 cloves garlic, finely grated
1 1/2 tsp. freshly ground black pepper
1 1/2 tsp. kosher salt

For Parmesan crisps and assembly:
1/2 cup shredded Parmesan cheese
1 T. fresh thyme sprigs
1 1/2 tsp. crushed red pepper flakes
Freshly ground black pepper, for garnish
1/2 baguette, cut into 1/4-inch thick slices, toasted
Assorted crackers, for serving
Cooking Instructions:
1. For butter: Using a hand mixer, beat butter, Parmesan, garlic, pepper and salt together until combined. Set aside.
2. For Parmesan crisps and assembly: Preheat the oven to 400°F. Line 2 rimmed baking sheet with parchment paper. Spoon about 2 tablespoons of cheese 2 inches apart on the prepared baking sheets. Spread each mound to a 2-inch diameter. Bake, rotating baking sheets halfway through, until light golden brown and crisp, about 6-8 minutes. Let cool at room temperature before removing. Break crisps into large shards.
3. Spread butter decoratively on a large wooden serving board. Top with Parmesan crisps, thyme, crushed red pepper flakes and pepper. Serve with toasted bread and crackers.