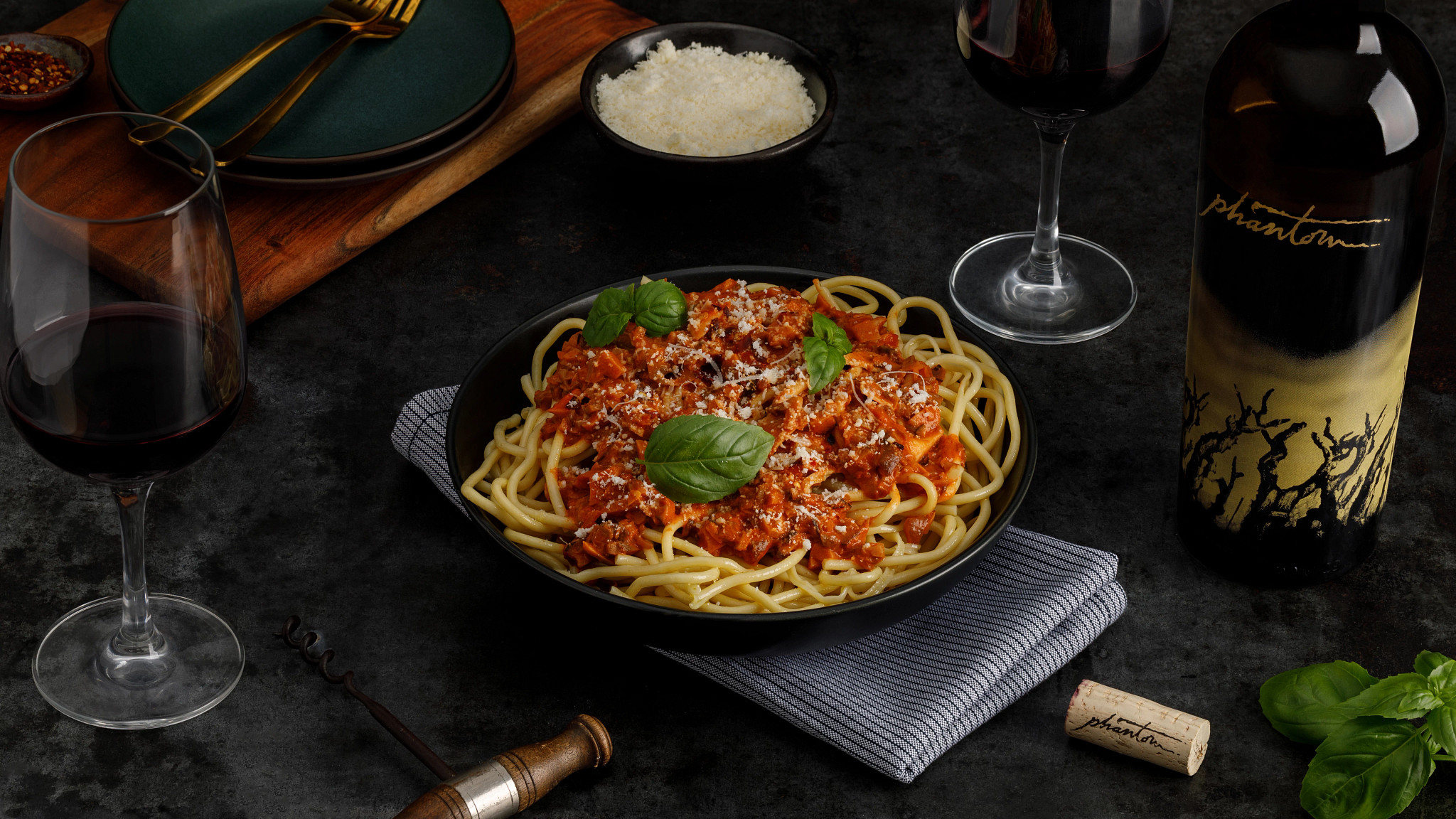 This recipe pairs particularly well with Phantom Red!
Prep time: 20 minutes
Cook time: 34 minutes
Ready in: 54 minutes
Serves: 4
Ingredients:
3 T. olive oil
1 large shallot, minced
5 cloves garlic, thinly sliced
1/4 cup tomato paste
12 oz. mixed mushrooms, such as cremini, shiitake, oyster mushrooms and white button
mushrooms, coarsely chopped
1/4 cup heavy cream
Kosher salt and freshly ground black pepper, to taste
1 lb. dry bucatini or spaghetti
1/4 cup grated Parmesan cheese
Chopped fresh basil, for garnish
Crushed red pepper flakes, for garnish
Cooking Instructions:
1. In a large skillet or Dutch oven over medium heat, heat oil. Add shallots and cook, stirring frequently until softened, about 3 minutes. Stir in garlic and cook until lightly browned, about 2-4 minutes. Stir in tomato paste and cook, stirring frequently until it darkens in color. Scrape up brown bits from bottom of the pan as needed, about 1-2 minutes. Add mushrooms and cook, stirring occasionally until softened, about 6-8 minutes.
2. Stir in cream and 1 cup water. Bring to a boil over high heat. Reduce heat to medium-low and simmer, stirring occasionally until sauce slightly thickens, about 13-17 minutes. Season with salt and pepper.
3. Meanwhile, fill a large pot with salted water and bring to a boil over high heat. Cook bucatini according to package directions; drain.
4. Add pasta to sauce and toss to coat. Garnish with Parmesan, basil and crushed red pepper flakes. Serve and enjoy.