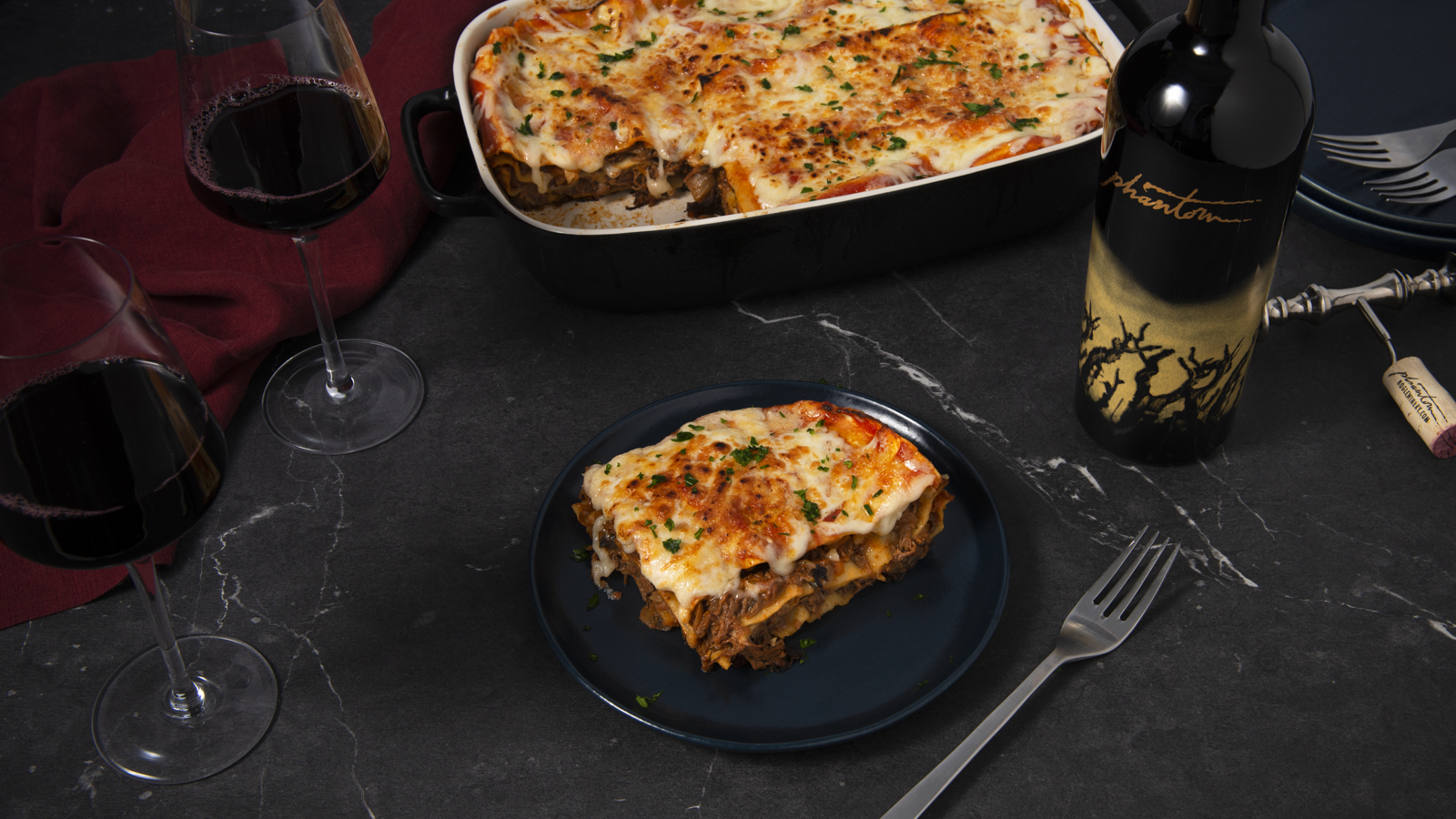 This decadent braised beef ragu lasagna makes an impressive main dish for fall entertaining.
Suggested Wine Pairing: Phantom Red Blend
Prep Time: 15 minutes
Cook Time: 4 hours 15 minutes
Total Time: 4 hours 30 minutes
Serves: 6
Ingredients:
2 tbsp olive oil
1 1/2 lb stewing beef
3/4 tsp each salt and pepper, divided
1 tbsp butter
1/2 lb sliced mushrooms
1 onion, diced
1 stalk celery, diced
1 small carrot, diced
1 tbsp finely chopped fresh rosemary leaves
3 cloves garlic, minced
1/4 cup tomato paste
2 cups sodium-reduced beef broth
1 cup tomato sauce
2 bay leaves
1/4 cup finely chopped fresh parsley, divided
1 pkg (12 oz) fresh lasagna sheets
3 cups shredded mozzarella cheese
1 cup grated Parmesan cheese

Cooking Instructions:
1. Heat oil in high-sided skillet or Dutch oven set over high heat; sear beef for 2 to 3 minutes per side or until golden brown. Remove from pan; season with 1/4 tsp each salt and pepper. Set aside.
2. In same skillet, cook butter, mushrooms, onion, celery, carrot, and remaining salt and pepper over medium heat, stirring, for 8 to 10 minutes or until vegetables are slightly softened. Add rosemary and garlic; cook for 2 to 3 minutes or until fragrant.
3. Stir in tomato paste; cook for 2 minutes. Stir in broth, tomato sauce and bay leaf; bring to boil.
4. Add seared beef to pan. Reduce heat to low; cover and cook for 2 1/2 to 3 hours or until meat is very tender and shreds easily with a fork. Remove bay leaves. Stir in half of the parsley.
5. Preheat oven to 400°F. Prepare lasagna sheets according to package directions.
6. Ladle 1 cup meat sauce into bottom of buttered 11- x 8-inch baking dish. Place 2 lasagna sheets over top. Spread with half of the remaining meat sauce; sprinkle 1 cup mozzarella and 1/3 cup Parmesan cheese over top. Repeat layers. Top with 2 lasagna sheets; sprinkle with remaining mozzarella and Parmesan cheese.
7. Cover with foil; bake for 30 minutes. Remove foil; bake, uncovered, for 15 to 18 minutes or until golden brown and bubbling. Let stand for 10 minutes before slicing. Sprinkle with remaining parsley.